According to the United States Bureau of Labor Statistics (BLS), forklift operator careers should expand by more than 12 percent between 2015 and 2020. The conservative BLS estimates does not factor in the impact of the recent dramatic decline in energy prices. Lower energy prices increase consumer demand, as well as provide transportation companies with significant savings. The BLS outlook for forklift operators includes an average annual salary of $30,220 for the 496,570 forklift specialists employed as of 2014.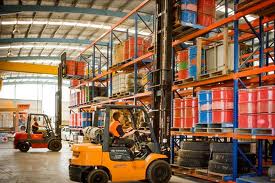 Forklift Jobs Overseas
A number of factors coalesce to create strong demand for forklift operators that work overseas. Most of the world remains in the industrial phase of economic growth, which means warehouses comprise an integral part of business logistics. Lower fuel prices have also benefited the consumers of industrialized nations, who have more disposal income to spend on items such as electronics and automobile components. Forklift operator demand in industrialized countries such as Malaysia far outstrips the number of specialists who have earned forklift licenses. Remember that forklift training varies among industrialized nations, as do the qualifications required to earn a forklift certification.
The Best Overseas Job Markets
Countries that conduct massive infrastructure projects represent the most fertile places for landing forklift operator jobs. Nations such as Russia that spend billions on upgrading energy pipelines require forklift operators to move and organize pipeline components. China's transformation into an economic power means Chinese businesses need forklift specialists to transport products from factories to warehouses. No sooner than products arrive in warehouses, forklift specialists must move the products from warehouses to trucks for transport to domestic and foreign markets. Other countries that have a deficit of forklift operators include India, Brazil, and Canada.
Forklift Operator Job Description
Although different countries present different job descriptions for forklift operators, you can expect many of the same job duties, whether you work in a German factory or run a New Zealand based warehouse. Forklift operators move heavy objects in factories and warehouses. Most of the work performed transpires inside, but a few jobs may entail outdoor work. You can expect to acquire forklift operator training on several different types of machines that include small gas-powered forklifts and behemoth hydraulic forklifts. To thrive in this career, you must handle noisy work environments and possess strong organization skills.
The Forklift Training You Need to Succeed
Most businesses that recruit forklift operators require a minimum of a high school diploma. On the job forklift training involves hands-on experience combined with in depth classroom instruction. Each country overseas requires different criteria for you to earn a forklift certification, much of which governments base on safety regulations. For example, the Occupational Safety and Health Administration (OSHA) promulgates forklift safety regulations for American operators.
Finding a forklift operator job should not pose much of a problem for accomplished specialists. You improve your odds of landing one of the open positions by looking for work overseas. Several online job boards present recruitment ads for overseas companies in search of experienced operators.