Are you looking to obtain your Forklift License and learn to Operate a Forklift in LA?
Forklift Academy is one of the largest Forklift Certification and Training providers in the USA, and Canada has a Forklift School located near Los Angeles, one of the biggest cities in Southern California. Please click here for the address.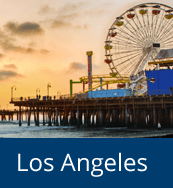 Los Angeles is known for having the best weather in the country, but also LA (Los Angeles) is one of the busiest cities with approximately 4 million people. Many big corporations are based in or near Los Angeles. Many of these companies have a very significant presence in the Distribution and Warehouse environment and have become the most efficient Distribution Centers in the world. Some examples of these businesses are Amazon, Walmart, Target, and Costco. There are many job opportunities in the Warehouse industries, and many of these job openings are available for warehouse operators with a Forklift License and with experience operating a forklift. If you are looking to obtain your Forklift Certification and Forklift Training you can attend one of our Forklift Training classes in Los Angeles, CA
The hands on Forklift Training will take approximately 2.5 hr to 3.5 hours to complete. The training consists of attending the class in a classroom setting to review the OSHA Rules and regulations regarding Forklift Safety. You will watch several Forklift Safety movies, and then take the Forklift Test. You will have the option to review the test to ensure you pass the training. Next, you will have the opportunity to learn to operate Forklift equipment. The Forklift OSHA instructor will spend the majority of the time teaching you how to become an effective Forklift Operator applying all the safety aspects you learned during the forklift class. At the end of the session, you will receive your Forklift License and a Certificate of Achievement. The Forklift Certification obtained at Forklift Academy is valid for three years and meets all OSHA regulations.
Why is a Forklift License required to operate a Forklift?
OSHA regulations and laws require that anyone who runs a Forklift MUST complete the proper Forklift Training and Certification. The main reason for this requirement is due to the high number of Forklift Accidents due to lack of training. Also, there are very hefty penalties for companies if OSHA finds anyone operating a Forklift during an OSHA inspection. There are fines up to $7,000 per day per employee. This penalty is retroactive. Also, OSHA has an 800 number available for employees to report any wrongdoing by a company in Los Angeles.
Forklift Speed Limit
Are Companies in Los Angeles hiring people with a Forklift License?
Companies hiring people MUST have the proper Forklift training before operating a Forklift. Below are few examples of companies currently hiring Forklift Operators in Los Angeles
Where Can I go to Obtain my Forklift License and learn hands-on experience with a Forklift?
Please visit our Forklift Academy Training Center in Los Angeles, CA located below and made an appointment to obtain your Forklift License and Training in Los Angeles, CA
21947 Plummer St.
Chatsworth, CA 91311
(818)998-3277

Here are some of the latest Forklift Academy Graduates from Forklift Academy- Los Angeles branch
If you already have Experience Operating a Forklift and looking to obtain your Forklift License please click here